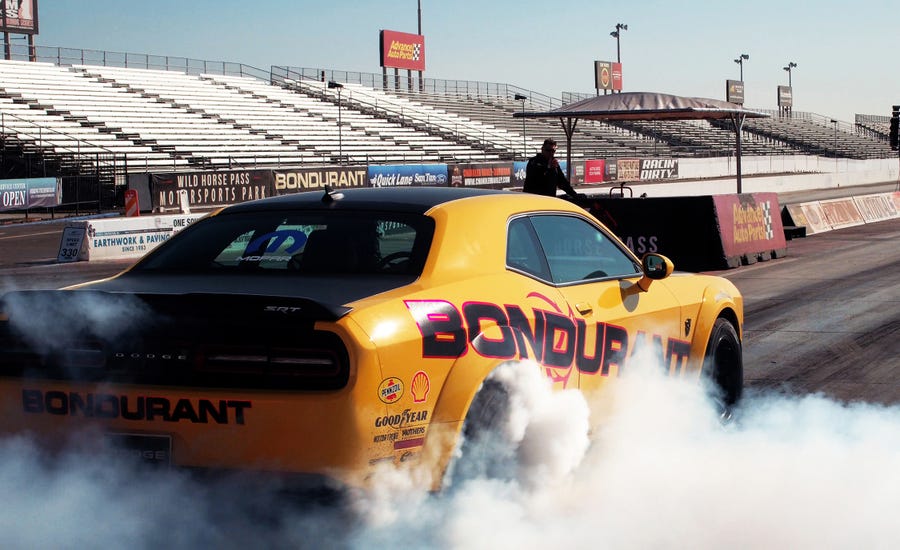 The 50-year-old driver training school in Arizona will remain open.
The Bondurant racing school is bankrupt—so if you're in a position to buy a business and completely understand why dragging Dodge Demons in the desert is so important, maybe today's the day to give Bob a call.
The Bob Bondurant School of High Performance Driving, headquartered in Chandler, Arizona, filed a Chapter 11 bankruptcy petition on October 2. This marks the second driving school in just over a year to file bankruptcy, after Skip Barber Racing School did so in May 2017. It was purchased by DeMonte Motorsports in December.
"The Chapter 11 [filing] ensures we will have sufficient time to reorganize and position the company for sustained success," Bondurant said in a statement.
Bondurant has been in the racing-school business for 50 years. He started teaching after a brutal crash in a Can-Am McLaren in 1967 left him unable to race again. Since then, the former Ferrari Formula 1 and Shelby racer—who helped clinch the 1965 FIA Sports Car World Championship, to date the only time an American has won it in an American car—has trained everyone from Paul Newman to regular schmoes who buy a Hellcat off a dealer lot. Beyond running factory schools for Fiat Chrysler, Bondurant is a go-to destination for teen drivers, armed security, and those itching for a competition license. The school, after switching tracks in California, has been in Arizona since 1990. It runs more than 200 cars on six tracks, including a skidpad.
For now, Bondurant said it will operate as usual without any interruption to its classes, including for FCA customers who receive complimentary training after buying new Dodge SRT, Jeep SRT, and Fiat Abarth models.
"Our plan is to emerge from this process as a stronger company and continue to drive this company into the next 50 years," he said.
SOURCE: CAR AND DRIVER
AUTHOR: Clifford Atiyeh