Photo courtesy of motor1
C1: Motorama Madness, Harley Earl-Style
GM Motorama
Photo courtesy of classic-car-history.com
Standing at the Motorama, taking in what was essentially the future of the automobile, it was still probably quite hard to imagine what a banner year 1953 would be for General Motors. America was booming thanks to the Allied Forces' victory in World War II, and consumers had acquired a taste for a different kind of car. Legendary designer Harley Earl had finally talked GM brass into building a proper 2-seat sports car. And a young engineer named Zora Arkus-Duntov had just stormed the company's doors.
GM's big news for 1953 was the debut of a concept it called "Corvette". A sleek runabout that was laced in boomtown style, the Corvette was named after small warships that were very familiar to trendy GIs who, increasingly, had been importing Jags, MGs, Alfas and Healeys to quench America's thirst for tossable sports cars.
Motorama Corvettes
Photo courtesy of The Jalopy Journal
Approved as an 'off-the-shelf' build that used a 'plastic' body, existing Chevrolet parts and a hotted up version of the bowtie brand's ubiquitous Blue Flame/Powerglide drivetrain, the first generation Corvette wasn't exactly revolutionary. However, the idea that a giant like General Motors had actually decided to build a niche sports car was absolutely trendsetting. In fact, in many ways, the original Corvette set the precedent for everything America's favorite sports car would become: a stylish tour de force that stands toe-to-toe with the best exotics in the world using proven, mass-market components.
Establishing any product is hard, and Chevrolet certainly had their hands full with a low-option, somewhat cobbled convertible that, in its first year, was completely hand-built. But that rawness proved beneficial, as sporty roadsters were often revered for their personality and imperfections. Nevertheless, good simply wasn't good enough for long-term success. In 1955, Chevrolet's new Director of High-Performance Vehicle Design and Development, one Zora Arkus-Duntov, stoked the car's appeal with Chevy's brand new 265 Turbo-Fire V8 and a 3-speed manual transmission. In 1957, a facelifted and much improved Corvette added Chevrolet's larger 283 and mechanical fuel injection. At 290 horsepower, and an advertised 283 horsepower, that 283 had the unique distinction of being one of the first mass-produced engines to reach the coveted goal of one horsepower per cubic inch. See, in his spare time, Duntov was a racer. A few years back, he'd taken an old factory test mule, dubbed EX-87, and installed a 283 with a hotter-than-factory cam. After a record run of 163MPH, EX-87 gave rise to the amicable 'Duntov Cam' mod that has since proliferated classic Chevy culture. Harley Earl, realizing the potential the Corvette had, would soon team with Duntov to create numerous Sebring racers that included the 1957 Q-Corvette, which foreshadowed even today's C7 by featuring a rear-mount transaxle and dry-sump lubrication.
Chevrolet CERV I
Photo courtesy of GM
As Duntov's influence increased, so too did the Corvette's focus, with the introduction of options like heavy duty brakes, heavy duty suspension, aluminum radiators and, eventually, a 327 cubic inch V8 that utilized solid lifters. It was around this time, 1960, that Duntov created the Chevrolet Engineering Research Vehicle as a literal platform for Chevrolet engineers to develop body, chassis and suspension systems in a competition setting. Originally envisioned as a factory race car, CERV I was a 1600-pound lightweight that was equipped with an independent, multi-link suspension and a 283 cubic inch V8 that, in addition to weighing 350 pounds, created 350 horsepower. However, GM had recently instituted a ban on factory racing. While that ban might've stood in the way of positive optics, it certainly didn't stop Duntov from pushing for more, as he eventually updated CERV I with fresher Larry Shinoda-penned lines and a 377 cubic inch V8 that was topped by mechanical fuel injection. Interestingly, much of what was learned from CERV I was later applied to the Corvair program.
C2: The Sting Ray Is Born
1963 Chevrolet Corvette Sting Ray
Photo courtesy of RK Motors
Speaking of designer Larry Shinoda, his stint at Ford was epic, but the Corvettes he created at General Motors are the stuff of legend. The second generation of Chevy's coveted sports car was short, but there probably isn't any era that's more influential. As Americans were sobering up from an awesome bender of chrome and tailfins, so too was GM Design. New chief Bill Mitchell had just as much swagger as Harley Earl, but his approach to aesthetics was certainly more restrained. Just like the Earl/Duntov combination, the Mitchell/Duntov mashup would prove wondrous.
Mitchell's first act of awesome was the 1958 XP-700 show car, which previewed a new boat tail design for almost a decade of 1960s Corvettes and gave rise to the sweet bubble-top Chevy full-sizers we all know and love. Then, in the midst of GM's racing ban, he used the chassis of the 1957 Corvette SS show car as the foundation for a secret racer called the 1959 XP-87 Sting Ray. Based on a drawing by Peter Brock, you know, the guy responsible for the alluring Shelby Daytona, the XP-87 was largely funded by Mitchell's personal money, and even carried him to an SCCA National Championship. Why is a private racer so significant to Corvette heritage? Because it's Chaparral-inspired design was largely the basis for the legendary split-window Vette.
Chevrolet XP-87, Grand Sport and Sting Ray II
Photo by Marty Schorr
Back in the not-so-secret-studios, Mitchell teamed with Shinoda and Chevrolet General Manager Bunkie Knudson to create the original Mako Shark concept, a car that previewed the already completed Corvette Sting Ray. In addition to mechanical improvements like ball-race steering, transistorized ignition and a fully independent suspension, the Sting Ray had been extensively wind tunnel tested. The result was an immensely successful product that nailed market demographics. In 1963, Sting Ray roadsters dominated sales, and four out of five cars shipped were equipped with BorgWarner 4-speed manual transmissions.
Meanwhile, Duntov, sick of seeing Shelby dominate motorsports, built a case for factory-backed racers with a Grand Sport program that included track-tailored Corvettes constructed around 377 cubic inch, all-alloy V8s. While Chevrolet's Bunkie Knudson approved the effort, higher GM brass nixed the program and the 100 unit homologation run Duntov had planned. As a fitting follow up to his derailed Grand Sport, Duntov created the CERV II, an ambitious monocoque racer that was much like Ford's original GT40. Employing a variety of engines and hot parts, CERV II eventually clocked a 0-60 time of 2.5 seconds and a top speed of over 180MPH. The idea of a true Ford GT40 competitor would really be pushed to the extreme with 1964's Grand Sport II. The Grand Sport II was a car that, executed by Duntov on his own time, had a wet weight of just 1,450 pounds. Its fiberglass body was so thin that bystanders could see numerous mechanical underpinnings, and on one high speed pass, the car's doors literally flew off. Grand Sport II would eventually pull a 198 MPH top speed run at GM's proving grounds.
Chevrolet CERV II
Photo courtesy of Chevrolet
Of course, all that old school fun translated to innovation on the production line. Throughout its run, the second generation Corvette added things like big blocks, side-pipes, 4-wheel disc brakes, a tougher Muncie 4-speed, functional heat extractors and the fabled RPO Z06 'big tank' cars. There was even an 'track only' offering that featured a 560 horsepower tri-power 427. Known internally as RPO L88, that Sting Ray required 103 octane, made 12.5 to 1 compression and, among its many options, featured radio and heater deletes to discourage street use.
C3: When Sharks Fly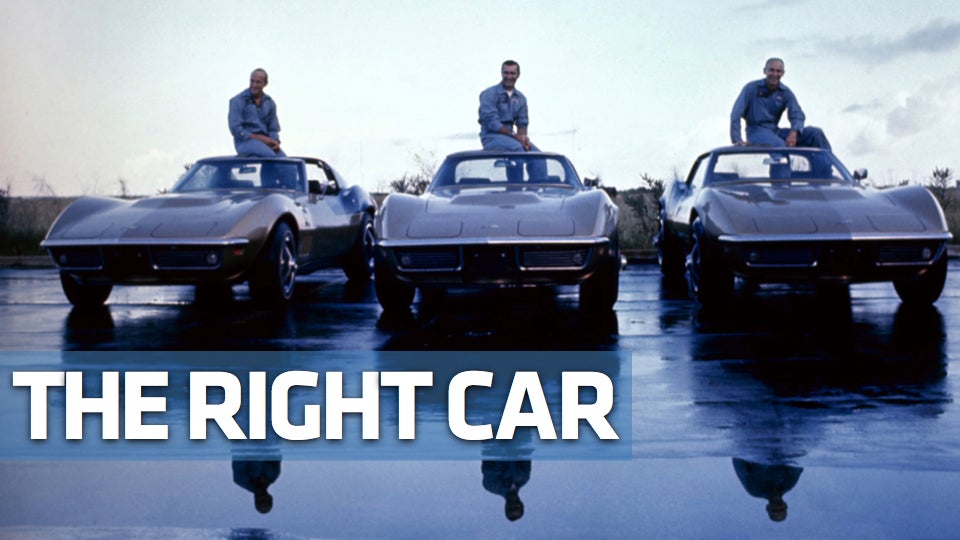 Astronauts and Corvettes
Photo courtesy of GM
1967 was supposed to be the first year of the third generation Corvette, but Duntov insisted the C3 visit the wind tunnel for further refinements. Nevertheless, the hype machine had already been in full effect for a few years. In 1965, Bill Mitchell, now firmly in control of the Corvette's appearance, commissioned the Mako Shark II concept. Sporting an incredible combination of aquatic theatrics and Chaparral athleticism, the Mako Shark II featured many advanced traits like a square steering wheel, a retractable rear spoiler and adjustable foot pedals. The Mako Shark II would ultimately evolve into the 1969 Manta Ray and become a design precedent for both Chevrolet and famous aftermarket firms like Motion Performance.
On the production side, the third generation Vette, debuted accidentally by Hot Wheel's Custom Corvette diecast, adopted features like hidden wipers, headlight washers, cast aluminum wheels and fiber optic light monitoring. Surprisingly, for a car that began as a roadster, the convertible Corvette would eventually be phased out -- likely because of the popularity of Chevrolet's new T-Tops and removable rear window. But more luxury and convenience certainly didn't cut back on performance. This generation offered a variety of hot big blocks, including Chevrolet's venerable LS6, a Tri-power L89 that featured Winters aluminum heads, an all-aluminum ZL1 and a second L88 that was strictly for track use. When the gas crunch hit, Team Corvette refocused on small blocks, with solid lifter LT-1 cars blistering the quarter in 14.3 seconds at 101.6 MPH. Naturally, drivetrains and suspensions evolved as well, with a new Turbo-Hydramatic 3-speed eventually being replaced by GM's ubiquitous 700R4 4-speed. 1973 saw the introduction of RPO Z07, in this form an off-road suspension package. 1974 upped the ante with the FE7 Gymkhana Kit, which combined RPO Z07 with heavy duty brakes. The love was spread to small block cars through RPO ZR1, which paired a racing suspension with the aforementioned LT-1. And innovations like fiberglass springs, an aluminum Dana 44 differential and Cross-Fire Injection helped propel the Corvette to its best sales ever.
Chevrolet Astro II
Photo courtesy of the GM Heritage Center
Chevrolet AeroVette.
Photo Courtesy of the GM Heritage Center
Despite the oil embargo and premature predictions of sports car death, Chevrolet was still looking to innovate. In addition to an Allison turbine car, company officials commissioned two mid-engine Wankel concepts, the most famous of which, the four-rotor XP-882, would eventually be reimagined into the V8-powered AeroVette show car. During this era of Corvette, Chevrolet leadership's desire to switch their sports car to mid-engine was arguably bigger than ever. Chevrolet engineers created five mid-engine cars in a span of twelve years, including the 1968 Astro II that used off-the-shelf parts to pull over 1.0g of grip on the skid pad. At the end of the day, however, Chevrolet General manager John DeLorean just couldn't make the numbers work for a mid-engine production car. But hey, at least Chevy did relocate the battery for better weight distribution.
C4: A New Corvette For The Modern Era
1988 Chevrolet Corvette
Photo courtesy of RK Motors
As was typical for Corvette, the design for the fourth generation car had been locked in many years before production began. In Fact, the final clay models for what would become the 1983 Corvette were shown to GM brass as early as 1978. Former Corvettes had always benchmarked global competitors, but the C4 was the first of the family with international sales aspirations. Chief engineer Dave McLellan fortified the brand by focusing on motorsports and competition, but there was little factory support. So, much like the old days when Chevrolet big blocks powered McLaren Can Am cars, Chevy teamed up with Lola to become a dominant force in IMSA. The IMSA cars were essentially Lola chassis that employed 1,000+ horsepower GM 90 degree V6s. You see, pundits were once again predicting the demise of the V8, so Chevrolet, like Ford's current GT program, emphasized boosted V6 power. Similarities to production Vettes mainly came through appearance and performance, with the C4 enjoying a slippery .34 coefficient of drag and boasting a 140 MPH top speed.
Chevrolet Corvette GTP
Photo courtesy of Dan Wildhirt
Chevrolet CERV III
Photo courtesy of GM
Endurance and engineering continued to be focal points of the Corvette program. Behind the scenes, prototypes were pushed to over 1.0g on the skid pad, experimented with early active suspension systems and even donned 750 horsepower Falconer V12 race engines to test chassis durability. Mid-engine thoughts were also still alive and well, as showcased by Chuck Jordan's 1985 Corvette Indy concept. Powered by a 2.6 liter twin-turbo V8 that made roughly 600 horsepower, Corvette Indy featured an active suspension, 4-wheel steering, all-wheel drive and a rearview camera. This car would ultimately influence the 1990 CERV III, which wrapped carbon fiber, Nomex and Kevlar skin around 5.7 liters of twin-turbo Lotus V8 that produced 650 horsepower. The CERV III, which came very close to being produced, was so impressive that many consider it a pinnacle for both GM and Corvette development. Fortunately, that pinnacle was somewhat mirrored on the road, as Chevrolet officially tapped GM's newest acquisition to create an 'ultimate' production car.
Photo courtesy of Corvette Report
Referred to in engineering circles as 'The King of The Road', the new ultimate Vette employed an all-aluminum, Lotus designed V8 that, counter to Corvette tradition, worked dual overhead cams. But wait, there's more: not only did Lotus use Chevrolet's dimensions to create a new engine, they also tuned the ZR-1s brakes and helped dial in a new Bilstein developed FX3 Sport Suspension that featured six damping settings and three driving modes. Lesser cars would introduce innovations like a new targa roof, fresh LT1 power, an electronic dash with digital LCD displays and a new ZF 6-speed. 1986 saw the reintroduction of a Corvette convertible, and 1996 brought a cool Grand Sport model that featured a 330 horsepower LT4.
C5: The Halo That Almost Wasn't
C5 Corvette Fixed Roof Coupe
Photo courtesy of GM
In the early 1990s, things were dire at GM. At one point the corporation was literal hours from bankruptcy, and every non-essential program was getting cut. As we all know, car culture and marketing influence is hard to quantify to accountants and bean counters. That meant a few dedicated members of Team Corvette had to take matters underground. In this regard, Chevrolet General Manager Jim Perkins is as much a savior of the Corvette's legacy as anyone else, as he hid much of the fifth generation car's paltry prototype budget under the guise of general marketing. But Perkins was an executive, not an engineer, and he knew he still needed the other side of the equation if Corvette were to once again become a crown jewel. Enter Cadillac engineer, and avid SCCA racer, Dave Hill. Hill knew he had one shot at success, so he laser-focused development of the C5 on what truly mattered: performance. The result was a world-class sports car that, utilizing 1,200 less components than its predecessor, introduced hydroformed frame rails, aluminum suspension pieces, Active Handling, Head Up Display, a rear-mount transaxle and an all-new, all-aluminum V8. Topping all that off was a super slick body that, thanks to its .29 coefficient of drag, featured commuter car efficiency while avoiding the dreaded Gas Guzzler Tax that plagued most high performance offerings.
Corvette C5.R
Photo courtesy of Cutaway Drawings
To fully understand how dramatically advanced the new front-mid-engine C5 was, keep in mind that, 20 years later, its basic form underpins the current, seventh generation car. Factory racing was back, as the GM-endorsed C5.R would win LeMans in 2001, win LeMans in 2002 and win every race in its class in 2004. And production directly benefitted from those efforts, as a new 'stripper' fixed-roof model joined new FE3 and FE4 Sport Suspensions, optional Magnetic Selective Ride Control and a high performance Z06 model.
C6: The Icing On The Cake
Sixth generation Chevrolet Corvette
Photo courtesy of Joe Bergman
If the fifth generation Corvette made the world pay attention, the sixth generation car put the world on notice. With the C6, chief engineer Dave Hill and his team sealed the Corvette's reputation as the five-figure sports car that can handily embarrass six-figure super cars.
A new body featured timeless lines and the first exposed headlights on a Corvette in 41 years. Base-level power started with GM's 6.0 liter LS2, a refined LS1 that made excellent use of a C5-era LS6 cam, and ended with a 6.2 liter LS3 that was introduced with almost 100 more horsepower than the aforementioned LS1. Factory-backed racing continued in the form of the C6.R. And for the first time, the Corvette started transforming into somewhat of a brand within a brand.
Soon after launch, the base coupe and convertible were joined by the incredible C6 Z06. Chevrolet's version of a 'rowdy track car', the new Z06 utilized the largest and most powerful naturally aspirated small block GM has ever produced to create 505 horsepower. Measuring 7.0 liters and dubbed LS7 after the fabled 454 that was advertised but never materialized in the C3, that hand-built mill featured titanium connecting rods, titanium intake valves, sodium-filled exhaust valves and dry-sump lubrication. The Z06's frame was constructed from aluminum, its engine cradle of magnesium alloy, and a wider body employs carbon fiber fenders and carbon fiber composite floors. Naturally, there was a whole host of suspension and brake tweaks. And if you really wanted to up the ante, you could order an optional Z07 package that included track-ready tires and carbon-ceramic brakes. Make no mistake about it: the C6 Z06 was revolutionary, and its 427 cubic inch small block is highly coveted. Late in the C6's production run, GM even mounted LS7s in drop-tops to create throwback 427 Convertible models for fans who like power and collectability.
1953 Chevrolet Corvette and 2013 Chevrolet Corvette 427 Convertible
Photo courtesy of Caricos
R&D was alive and well, as GM rolled out highly popular Grand Sport and line-topping ZR1 models. The Grand Sport, still an enthusiast favorite, was essentially a Z06 without the high-strung LS7, making it a perfect track car for weekend warriors. The ZR1, on the other hand, was a completely different beast. Codenamed 'Blue Devil', it stacked the Z06 package with a carbon fiber roof, a carbon fiber hood, carbon fiber splitters and carbon fiber rockers. Larger wheels were noted for being the biggest ever offered on a Corvette; quite a feat since original C4 ZR-1 convertibles had to employ add-on fender flares to cover their already massive rollers. Both Magnetic Selective Ride Control and carbon-ceramic brakes were standard equipment. And a new supercharged 6.2 liter V8, named LS9, created 638 horsepower on the way to a top speed of 192 MPH.
C7: Always Appreciated, But Never Safe
Seven generations of Corvette
Photo courtesy of GM
Given the success of the C5 and C6, there were voices inside GM that started whispering, yet again, about a proper, mid-engine sports car. The General was quickly globalizing its footprint, and Australia's Holden division had been tasked with developing most of the company's global rear-wheel drive products. That's why, when a GM-produced rendering of an exotic-looking Holden went viral, the internet lit up with rumors about a mid-engine C7. However, that was not to be the case as General Motors Corporation's looming bankruptcy essentially gutted product development. In fact, the Corvette program was, at one point, said to be on indefinite hiatus. That's right, even after clawing its way back to profitability and halo status, the Corvette was once again an endangered species. According to folks on the inside, the situation looked so dire that the team even established a third-party 'Corvette Phone Book' in case the brand and manufacturing facility were sold to new investors.
When new chief engineer Tadge Juechter finally received approval for the C7, his team began refining the already incredible C6 into the best Corvette ever produced. A Transformers-themed concept car was created to build some much needed post-bankruptcy hype, and the crew expertly duplicated the production rollout of the sixth generation Vette -- except with more ferocious offerings.
A newly christened Stingray coupe and convertible wrapped fresh LT1 power, complete with direct injection, continuously variable valve timing and Active Fuel Management, in an emboldened Z51 performance package that compared favorably to the previous generation Grand Sport. Notable innovations were a Performance Data Recorder, dual-mode exhaust, a multi-mode Magnetic Selective Ride Control suspension and a 7-speed manual transmission with standard rev-matching technology.
Chevrolet Corvette Grand Sport
Photo courtesy of Chevrolet
The second big intro was a beastly Z06 that, now available in coupe or convertible, swapped the previous generation's large-displacement small block for 6.2 liters of supercharged fury. Named LT4, that impressive engine paired 650 SAE-certified horsepower with either the 7-speed manual or an 8-speed automatic to push the Z06 to a drag-limited 185 MPH top speed. Not quite as fast as you imagined? Well, that's because, in addition to featuring Electronic Stability Control, Brembo brakes, an electronic limited-slip differential and Performance Traction Management, this generation of Z06 was finished with optimized aero that's designed to put power to the ground around a track. Options included a choice of two different kinds of seats and a buffed up Z07 performance package that features carbon-ceramic brakes, Michelin Pilot Sport Cup 2 tires and even better aero. As with the sixth generation Corvette, all the C7 Z06's athletic goodness was passed directly to a new Grand Sport offering. That car, universally lauded as a perfect compromise between neck-snapping performance and everyday usability, was built around stout LT1 power that could be kitted all the way up to the Z06's Z07 performance package.
Chevrolet Corvette ZR1
Photo courtesy of GM
Given this twenty year maximization of Team Corvette's Y-Body platform, it would seem only fitting that the swan song for the front-mid-engine car would be a beastly ZR1 that was so intense it even intimidated professional racers. Based heavily on the Godzilla-slaying Z06, the ZR1's biggest selling point was a supercharged LT5 V8 that created an incredible 755 SAE-certified horsepower. Along with that powerplant came an improved cooling system that encompassed thirteen radiators, and an active exhaust system that spat blue flames. And if that wasn't outrageous enough, part of the car's intercooler cover literally rose through its hood, making it illegal to sell in some major markets. That said, the ZR1's brutal power and ostentatious appearance weren't just a six-figure sales ploy. The car achieved a 214.88 MPH top speed and, with the help of a ZTK Performance Package developed by the C7.R race team, produced an astonishing 950 pounds of downforce at speed. That's roughly 60% more downforce than the C7 Z06/Z07, and perhaps the best part was: like the original Corvette, the car was available in both coupe and convertible form.
C8: A Vision Realized
Photo courtesy of motor1
For industry watchers, it became somewhat clear that General Motors was developing some sort of mid-engine sports car when Ford pulled off a surprise debut of their awesome EcoBoost GT. Not about to let their life-long competitors steal all the spotlight, GM coordinated spy shots of a rather interesting test mule and took to the internet. The mule, codenamed Blackjack, was a Holden Ute that had been fashioned over a distinctive mid-engine sports car chassis. Many enthusiasts dismissed the photo, since General Motors had developed no less than ten mid-engine concepts throughout the Corvette's then 62-year history. But this time, things seemed different. Press drives of the C7 included verbiage from Corvette officials stating they'd maxed out the potential of the current front-mid-engine car. GM executives dropped hints and made pointed references to Zora Arkus-Duntov. And the Corvette's Bowling Green factory scheduled an extended closure for renovations and investment. Today, on July 18th, 2019, we're all witness to an epic changing of the guard.
Photo courtesy of motor1
Appropriately developed under the codename ZERV, the 2020 Corvette Stingray is the first rear mid-engine production Corvette the world has ever known. Propelled by a 490 horsepower LT2 V8 that's mated to a Corvette-first 8-speed dual-clutch transmission, it mixes GM's proven aluminum space frame technology with an electronic limited-slip differential and the world's first mid-engine application of the company's oft licensed Magnetic Selective Ride Suspension. The targa's styling is evolutionary rather than revolutionary, with lead designer Tom Peters putting big emphasis on reducing drag, increasing cooling and increasing downforce. Key features include LED lighting, digital telemetry, a rearview mirror that doubles as a rearview camera, Head Up Display, third generation Chevrolet infotainment and both front and rear trunks. Multiple options for customization exist, thanks to a choice of three seats, six interior themes and twelve exterior colors. A revolutionary supension lift system can automatically adjust the car's height at up to 24 MPH in up to 1,000 GPS-tagged locations. And a 495 horsepower Z51 performance package is ready to hit the track with better cooling, better brakes, more aggressive supension tuning and a custom Z mode setting that personalizes many of the car's attributes in one touch.
Photo courtesy of motor1
According to GM, the 2020 Corvette Z51 will hit 60 MPH in under three seconds. But, while that's very impressive, we all know it isn't the end-all, be-all of C8 performance. Rumor has it that the next generation Z06 will be powered by a twin-turbo, dual overhead-cam V8, dubbed LT7, that's loosely based on Cadillac's new Blackwing mill. That seems logical since GM has a rich history of offering turbocharged performance cars, and since they've experimented with turbo Corvette production mules all the way back to 1979. And then, who can forget about last year's rumors of C8 test mules having problems with GM's new Global B electrical architecture, which the C8 is debuting, and creating so much power that they were bending frames? Those rumors fueled beliefs that the company is planning a 1,000 horsepower hybrid line-topper that could completely redefine affordable super car performance. Presently, in addition to "Z06" and "ZR1", the company has trademarked the names "Zora", "Manta Ray" and "eRay". Whatever the future holds, it's sure to be exciting!
Photo courtesy of motor1