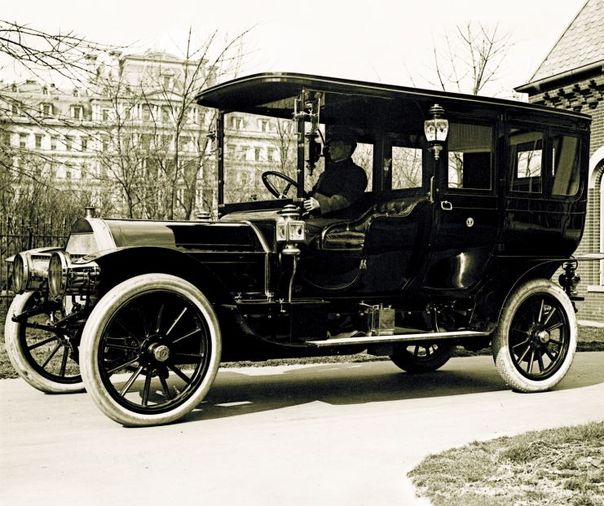 One of Pierce's many successes was as a presidential limousine. This 1909 Model 48 limo was part of the White House transportation fleet, and was used by President Taft.
The Luxury car builder from Buffalo, New York
Of all the tremendous losses among America's Independent automakers, the famed "Three P's of Luxury," Pierce, Peerless, and Packard, are perhaps the most grievous. Each had its own distinct style and advantages, and—although for a while they operated in roughly the same period of time—each had its own era in which it outshone the others. Consider Pierce-Arrow, for instance, a marque renowned for meticulous craftsmanship and refinement.
Pierce-Arrow was the brainchild of Percy Pierce, son of the owner of the Buffalo, New York-based George N. Pierce Company, aided by company executive Colonel Charles Clifton. In 1900, the firm—a manufacturer of diverse products including ice boxes and bicycles—began experimenting with car designs, both gas and steam. In the end, the Pierce company decided gasoline was the better idea, because steam cars were complex and subject to too-frequent problems. It hired engineer David Fergusson to design a new gasoline-powered car for production. He built two small "Motorette" two-seat runabouts in 1901, and spent months testing and refining them before production began the following year. Some 25 Motorettes were produced in 1902, before a new, larger, and more powerful version superseded it. About 125 examples were produced that year. By 1903, a further refined Motorette was in production, as were 6- and 8-horsepower four-passenger Stanhope models.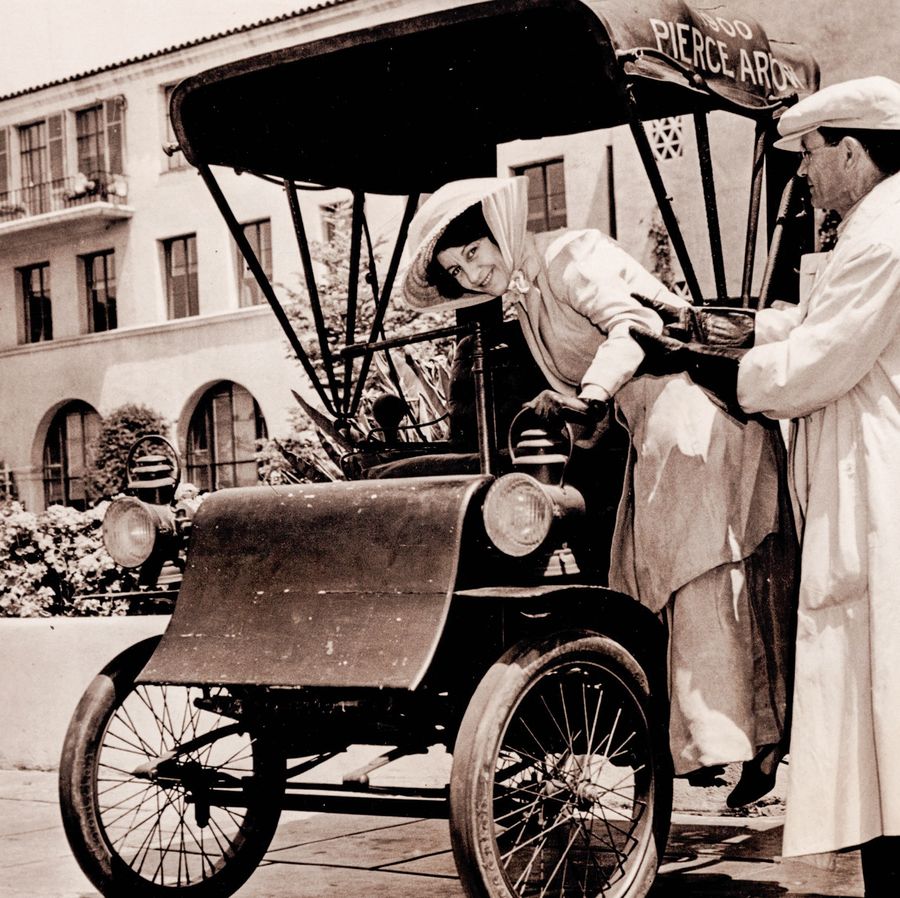 Buffalo-based Pierce built about 150 of its early "Motorettes" during 1902, including 25 early models and 125 improved versions.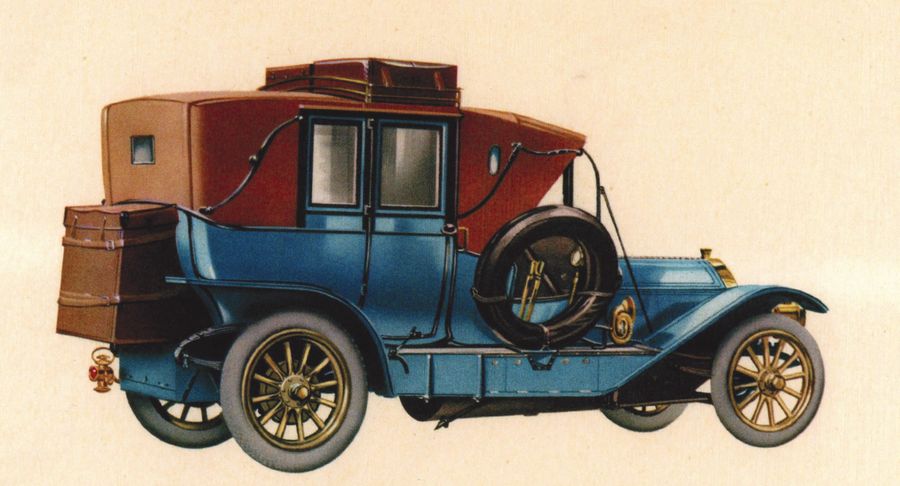 Among its many claims to fame, Pierce is also credited with creating the first motorhome. The Pierce-Arrow Special Touring Landau debuted at Madison Square Garden in 1910. The Landau boasted a fold-down rear roof so passengers could enjoy fresh air while touring, a rear seat that folded into a bed, a chamber pot toilet, and a sink that folded down from the back of the driver's seat. The driver—usually a professional chauffeur—was connected to his passengers via telephone! This was a handy vehicle to have in the days when "motor hotels" (aka motels) were practically unknown.
The Pierce cars quickly earned a reputation for reliability— amazingly, they won the first five Glidden Tours, from 1905 to 1908—and were commercially successful almost from the start. The company continued to introduce new models, adding an innovative new four-passenger variant in mid-1903, with a European-style, front-mounted two-cylinder engine. Pierce didn't rest on its laurels, introducing a handsome four-cylinder car in 1904, dubbed the "Great Arrow." Boasting 24-28 hp and priced at $4,000, the Great Arrow established Pierce in the nascent luxury car segment. By the following year the Great Arrow had become the mainstay of the company. Management dropped the lower-priced Stanhope in 1906, focusing entirely on high-priced luxury cars. That year's Great Arrow was offered in two series: 28-32 hp and 40-45 hp. During the same year, work began on a new Pierce automobile factory building that would eventually grow to 1.5-million square feet of floor space.
It needed the space: In 1907, the company produced 400 of the 28-32-hp cars (priced $4,000-$5,000) and 500 of the 40-45-hp models (priced $5,000 to $6,250). The factory also built 100 of the new 65-hp six-cylinder Great Arrow Sixty- Five, a luxury car of staggering greatness on a regal 135-inch wheelbase. Few cars could approach its grace and elegance, its silence, or its smooth power
.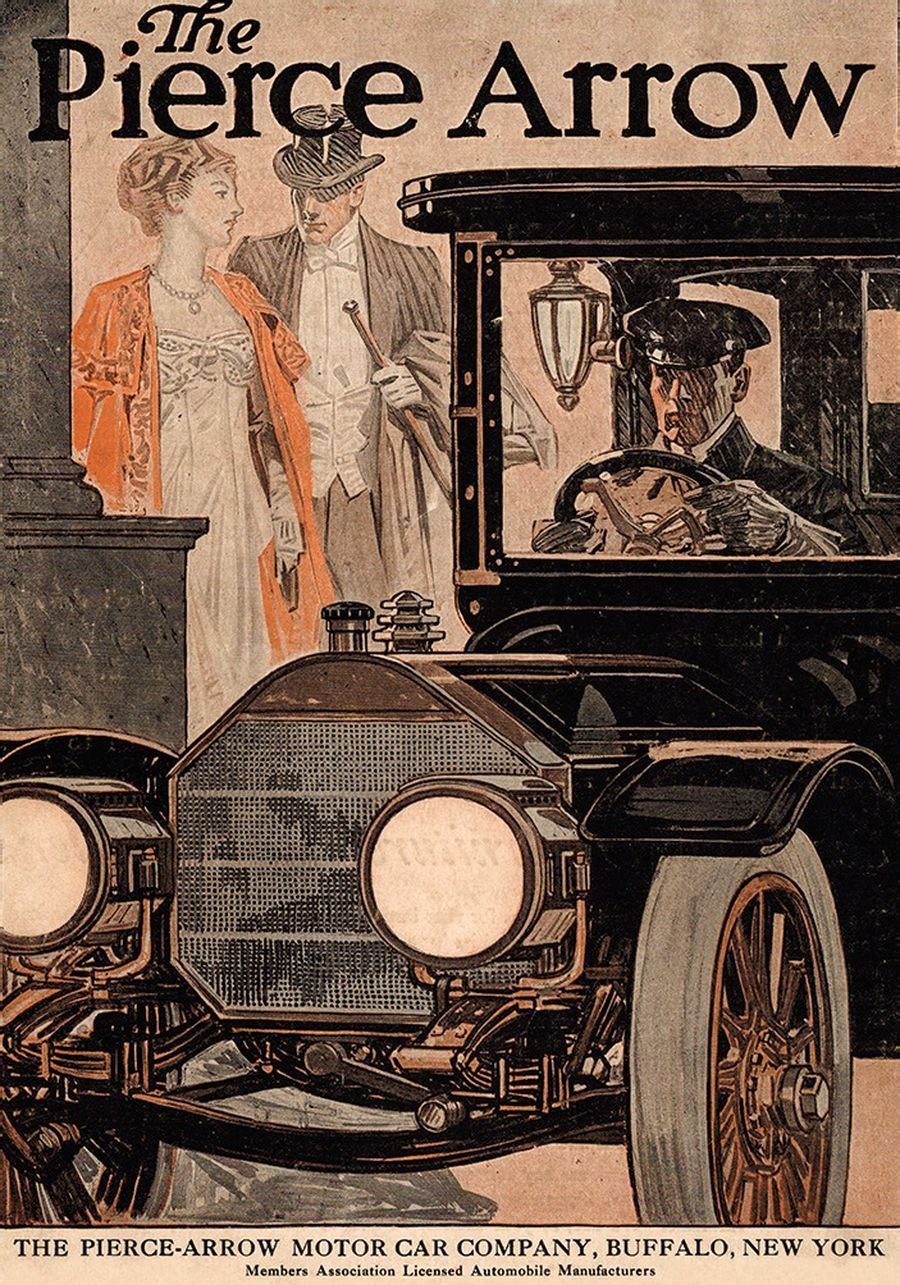 Advertising like this 1910 magazine layout drove home the idea that Pierce-Arrow was a high-end luxury brand.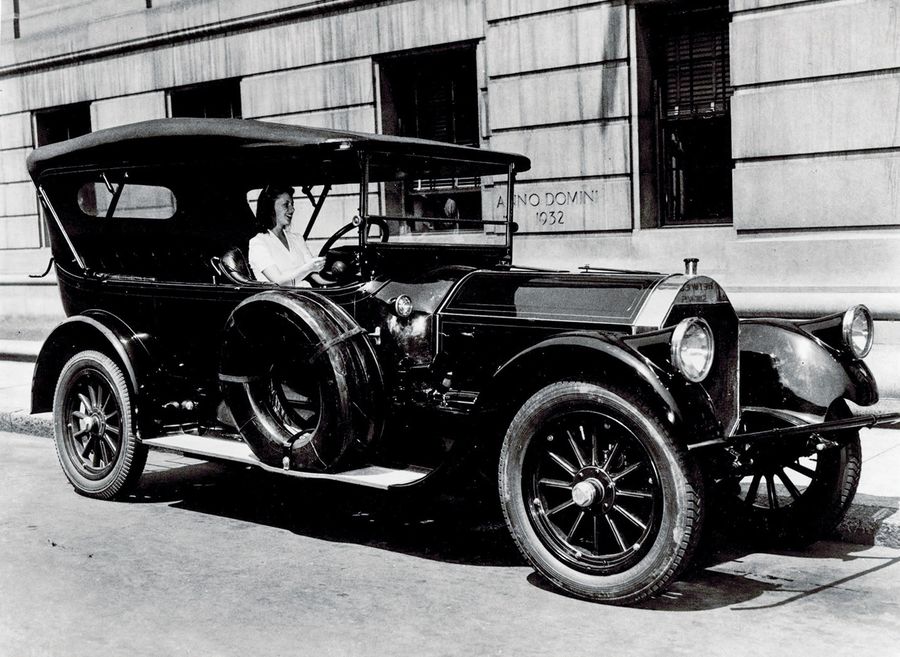 The 1917 Pierce-Arrow Model 66 was available as a touring car. Note the classic "frog-eye" fender-mounted headlamps, patented by Pierce-Arrow and soon to be an identifying feature.
The price of entry was high, certainly, but buyers knew that for quality of manufacture, Pierce-Arrow was unsurpassed. Each car was hand-built of the finest materials with exquisite care, the assembly process checked and double-checked prior to exhaustive testing and retesting before being released to the buyer.
The Great Arrows boasted bodies made of large aluminum castings and flanged panels, riveted together for enormous strength. In addition, the engine crankcase, oil pan, intake manifold, and transmission housing were also made of aluminum.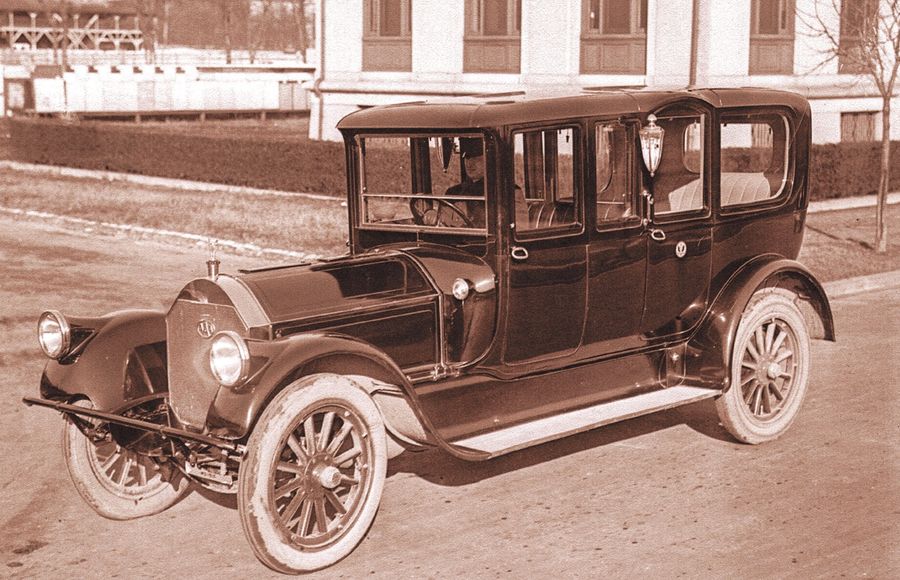 This 1919 presidential limousine served President Woodrow Wilson. Notice the elegant pillar-mounted coach lamp and the raised roof section over the rear door.

More prosaic was this 1920 Pierce-Arrow Touring Car, priced at a lofty $7,250. Pierce was struggling with stagnant sales by this point, and a new management team came into power.
Recognizing the prestige carried by the Great Arrow name, in 1909 the company changed its name to the Pierce-Arrow Motor Car Company. That year the company offered five distinct model series, with prices ranging from $3,100 to $7,100. In 1910, George Pierce died; son Percy Pierce had earlier left the company, so Colonel Clifton and the board of directors were now in charge.
The 1913-1914 Pierce-Arrow Model 48 B-2 introduced a new patented headlamp arrangement, in which the lamps were mounted in metal pods that sprouted from the front fenders. This allowed the lamps to sit higher, wider apart, and more forward, for greatly improved nighttime illumination versus the conventional bracket-mounted type.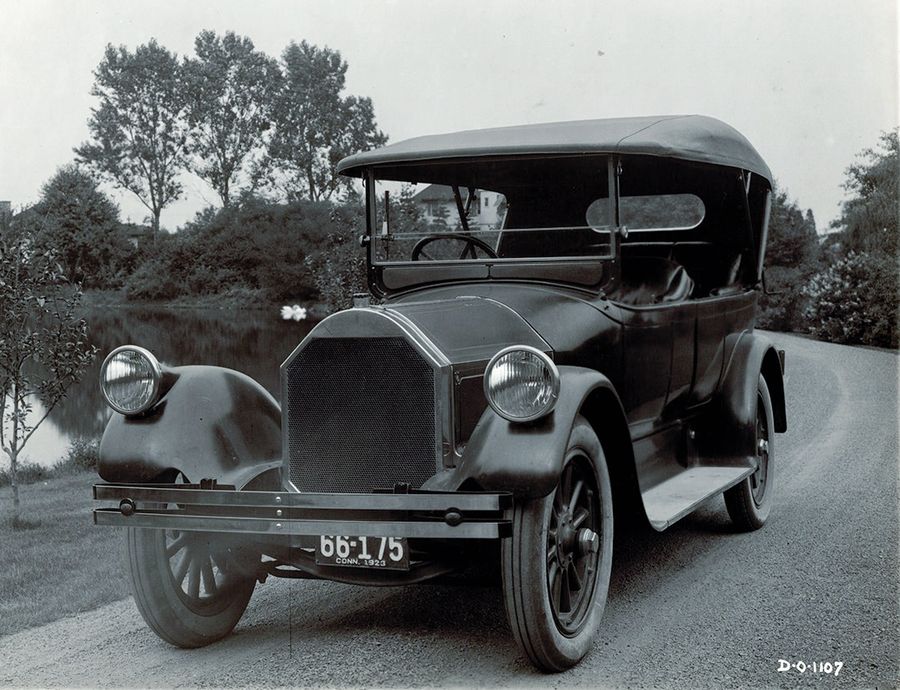 In an effort to grow sales volume, new lower-priced models were introduced, and prices reduced on other models in the line. This 1923 Pierce-Arrow Model 38 Touring Car carried a price tag of $5,250.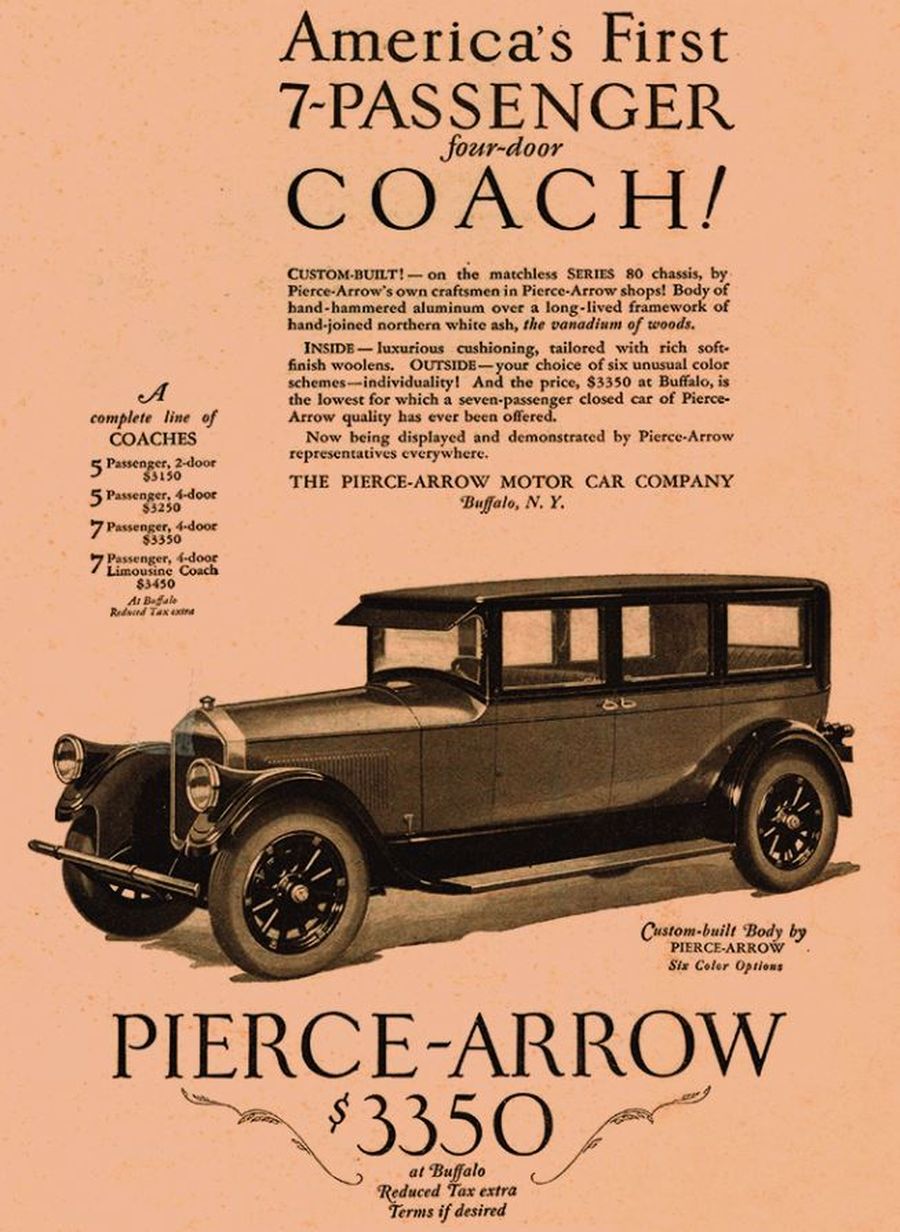 The Pierce-Arrow Series 80 was the lowest-priced offering for 1926. This sharp seven-passenger sedan cost just $3,350.
In 1913, the three leading luxury cars in America were unquestionably Packard, Pierce-Arrow, and Peerless. Then, in 1914, Cadillac, previously a minor player in the high-end luxury segment, introduced its revolutionary V-8 engine in a bid to move higher into the top ranks. The following year, Packard brought out its legendary Twin-Six V-12 models. Pierce-Arrow's management, unfortunately, dismissed both of these competitors' efforts as mere fads. Hidebound, it took the position that a true luxury car should be powered only by a smooth, quiet, inline six-cylinder. This stand would cost it more than it could ever have guessed, because the age of the six-cylinder luxury automobile was drawing to a close.
An innovative four-valve-per-cylinder "T-head" six-cylinder engine was introduced in 1918 Pierce-Arrow cars to provide more power, but it wasn't as exciting as a V-8 or V-12 and sales lagged. To streamline production, only the Model 48 was built for 1919.
Still another presidential Pierce-Arrow was this 1928 model, seen here with Presidents Calvin Coolidge and Herbert Hoover.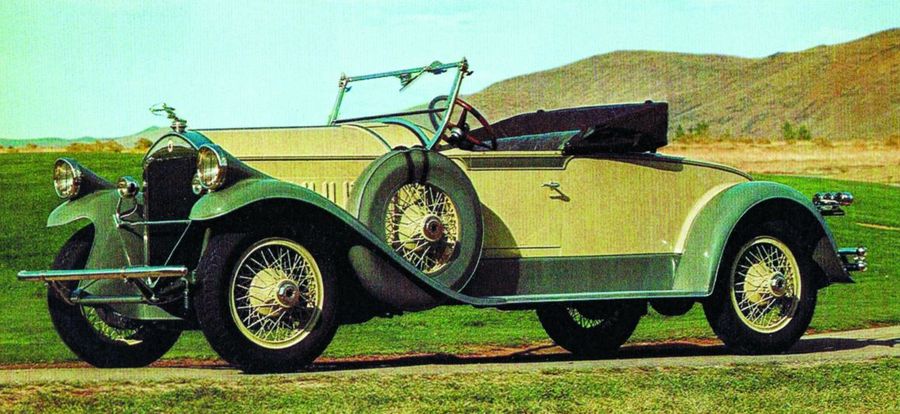 The Pierce-Arrow roadster for 1928 was as handsome a car as anyone could want and built with great pride. Notice the classic Pierce-Arrow "archer" hood ornament.
Like Packard, Pierce-Arrow also produced a line of heavy trucks, and when World War I broke out, the company was flooded with orders, leading to another expansion of production capacity.
After WWI ended, much of Pierce- Arrow's senior management retired and new management was brought in, bringing with them hopes that the company could begin to grow its sales volume, which was languishing around 2,000 units per year. In 1921, sales fell to just 1,444 cars, and bottomed out at 1,240 cars for 1922. Thankfully, work had already begun on a new and smaller six-cylinder car, which management hoped to sell in much higher volume.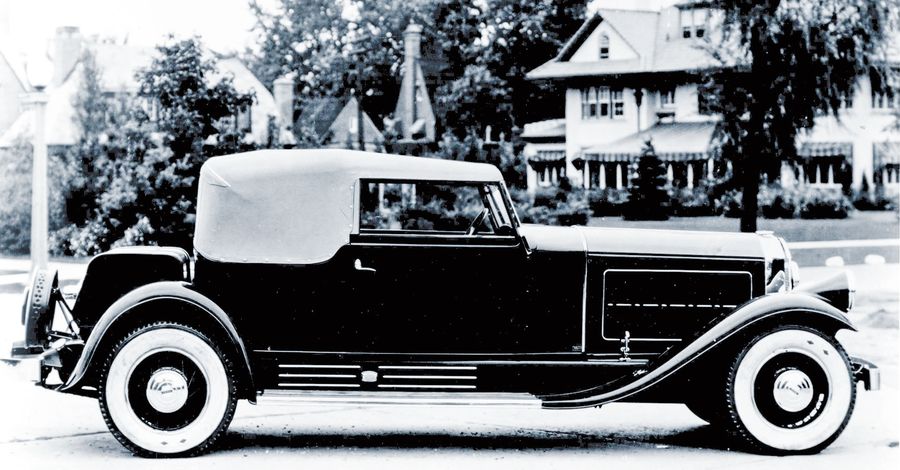 This very stylish 1931 Pierce-Arrow had been fitted with a convertible coupe body by coachbuilder Rollston.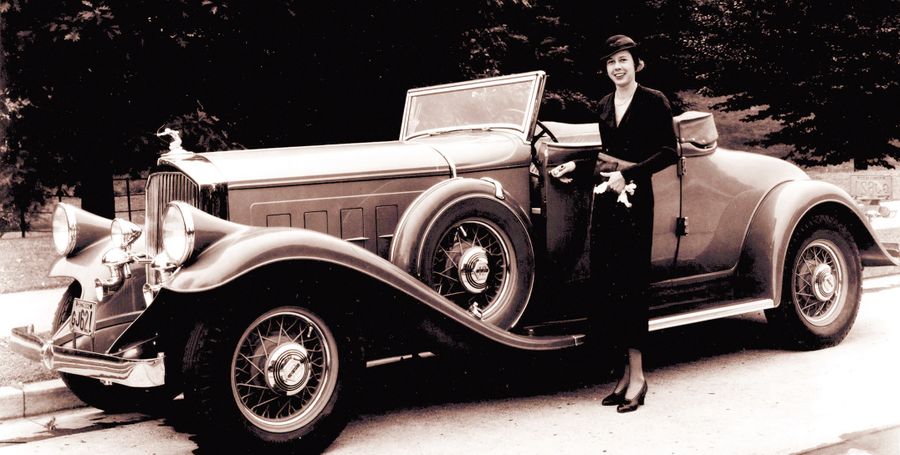 Coachbuilders loved to create designs for the luxury Pierce-Arrow chassis. Seen here are a 1932 Pierce Model 53 LeBaron-bodied convertible and its lucky owner.
Introduced in late 1924, the Series 80 had a modern 70-hp L-head inline-six and offered prices as low as $2,895 for a snazzy Touring car, versus $5,250-$8,000 for the Model 38. The new Series 80 cars proved extremely popular, and some 5,231 Pierce-Arrows were sold in 1925, more than doubling the prior year sales. On the mechanical side, Pierce-Arrow continued to innovate, introducing vacuum-boosted four-wheel brakes in 1926—the first American car to offer power brakes. That year, sales climbed to over 5,600 units. They topped 5,800 in 1927, and 5,700 in 1928 when the company merged with Studebaker, which was looking for a prestige nameplate in order to expand into the luxury market. It seemed like a great idea— the following year, 1929, Pierce-Arrow introduced a new inline-eight engine, and a satisfying 8,422 Pierce-Arrow cars were sold for the year.
There were problems, though. Pierce-Arrow's styling was too conservative, in an era when styling was becoming very important. In addition, upper-class buyers now expected larger multi-cylinder engines. To stay competitive, Pierce engineers began work on a new V-12 engine. Before it arrived, unfortunately, the Great Depression hit. Sales began to fall. The 1930 calendar year results weren't too bad—nearly 6,800 cars were sold, though that was spread among three series (all powered by inline-eights) and four different wheelbases. But then the total dropped to 4,522 units in 1931. In 1932, Pierce-Arrow unveiled its new V-12 engines in the Model 53, which offered 398 cubic inches and 140 horsepower, and in Models 51 and 52 was a 429-cu.in. version producing 150 hp. These were absolutely magnificent automobiles and, because of the poor economic conditions in which they were released, were also priced very reasonably; a five-passenger Model 53 Club Brougham was tagged at $3,650. At the top of the line, the 147-inch-wheelbase Model 51 limousine was $6,300. However, 1932 was near the bottom of the Depression, and just 2,692 Pierce-Arrow cars were sold that year. In 1933, a failing Studebaker sold Pierce-Arrow to a group of Buffalo area businessmen, and Pierce-Arrow was once again independent and responsible for its own future.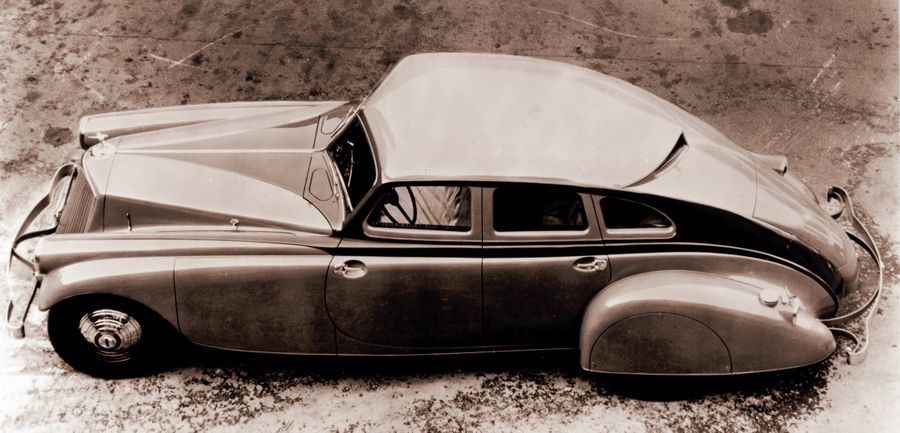 Considered by many to be among the best-looking cars of all time is the 1933 Pierce-Arrow Silver Arrow sedan. A handful were produced, but by this point the company was in financial trouble and could not afford to put it into series production. Note the recessed door handles, fully integrated front fender line, and unique door cuts. The high-mounted split rear window inspired a Studebaker design cue.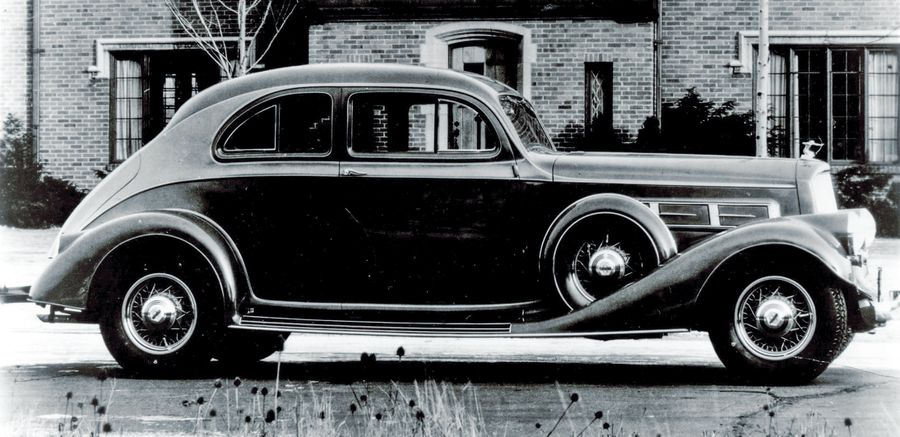 Like other luxury car makes, Pierce-Arrow introduced a 12-cylinder engine, though it was a bit late to the market. This 1935 Pierce-Arrow Twelve coupe is a striking design on an elegant 138-inch wheelbase, yet was priced at $3,295, a considerable bargain.
During 1933, Pierce-Arrow unveiled one of the most fabulous cars of that incredible decade—the magnificent Silver Arrow, a concept of what the future could bring from Pierce- Arrow. Designed by Phil Wright, it was described as the car of 1940—in 1933. Finely wrought and achingly beautiful, five examples were produced prior to the breakup with Studebaker. However, the lack of necessary funds for tooling meant that Pierce-Arrow couldn't put the Silver Arrow into series production. From that point on, it was all downhill for the grand old firm. The company's break-even point that year was about 3,000 units, but despite the brilliance of the cars, just 2,152 were sold during the 1933 model year. For 1934, sales fell further to 1,740 cars, despite an improving economy. In 1935, sales were 875, thus Pierce-Arrow was essentially finished. It had scheduled a new design for 1936—and it was a good one—but despite the newness, sales continued to fall. In 1937, the company offered five distinct series and four different wheelbases, with a choice of eight or 12 cylinders, and outstanding quality—yet Pierce-Arrow sold less than 200 cars for the entire year. A small number of 1938-spec cars were produced—well under 85 according to reports. That May, the company was sold at auction, and that was the end.
By that point it wasn't that the economy was bad; indeed, 1937 had been a good year for markets. The fault lay strictly in the whims of people. The day of the cost-is-no-object luxury car was ending and there simply wasn't enough of a market left to support all the great cars that could be built. Peerless expired in 1931, Cunningham in 1928, DuPont in 1932, Duesenberg in 1937, and Pierce-Arrow in 1938. It was sad, it wasn't fair but, unfortunately, it was reality.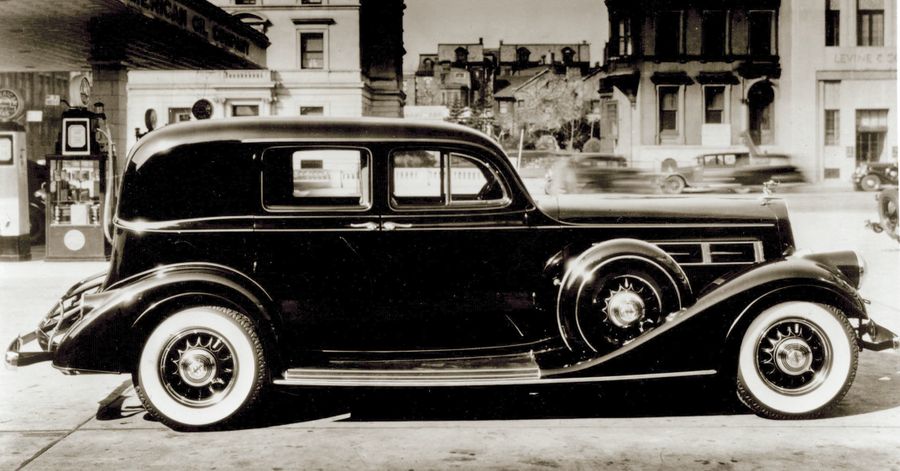 This 1935 Pierce-Arrow five-passenger sedan had an interesting blind rear quarter window. Note the coach-style doors.
A lovely 1936 Pierce-Arrow convertible sedan. By this point, the company was nearing the end and production was less than 1,000 cars per year. Production would finally halt for good in 1938
.