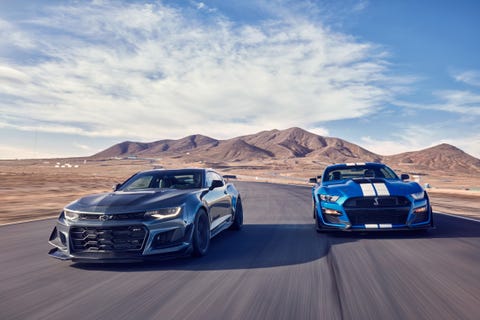 Greg Pajo - Car and Driver
The 2020 Ford Mustang Shelby GT500 with 760 horsepower faces off against the 650-hp Chevy Camaro ZL1 1LE.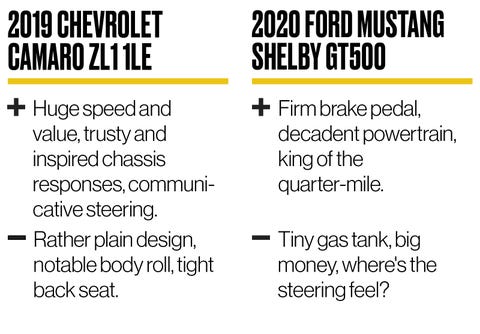 Calling this a rematch is absurd, but we're doing it anyway. The last time we pitted the supercharged Ford Mustang Shelby GT500 against the Chevrolet Camaro ZL1 was way back in 2012. Now the Camaro and Mustang are on new platforms and make more power, and both can lap a racetrack faster than their predecessors. During the '12 test, the Mustang enjoyed a considerable power advantage, but it was the less expensive and more sophisticated Camaro that took the crown.
For 2020, the engineers at Ford Performance have cooked up the latest ultimate Mustang, the supercharged Ford Mustang Shelby GT500. But Chevy hasn't been sleeping on the job, and their supercharged 2019 Chevy Camaro ZL1 1LE has been quietly waiting for this fight. Ready for a battle between the quickest and most powerful Camaro and Mustang? Let's get this rematch started.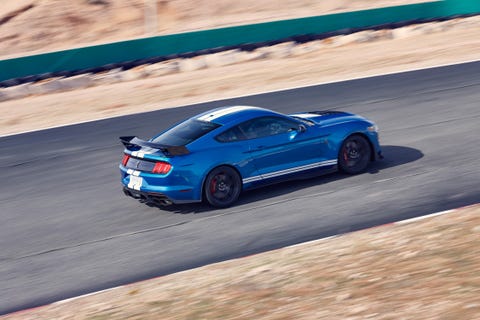 Greg Pajo - Car and Driver
The Matchup
The Mustang and Camaro quarrel started back in 1967, and we've performed about 50 comparison tests that included the two muscle cars. But the numbers have never been this astronomical. Add up the power from their supercharged V-8s and you'll get more than 1400 horsepower. Together they have 17 forward gears, and if you couldn't choose one and had to buy both you'd be writing a check for a little more than $168,000.
As it was eight years ago, the Shelby remains the more powerful and more expensive of the two. The GT500's 5.2-liter supercharged double-overhead-cam 32-valve V-8 not only revs to 7500 rpm, it produces 760 horsepower at 7300 rpm and 625 lb-ft of torque at 5000 rpm. A new seven-speed dual-clutch transmission supplied by Tremec is the only gearbox available. There's no manual this time around, and while a manual might not be quicker than the dual-clutch, it'd probably be more fun.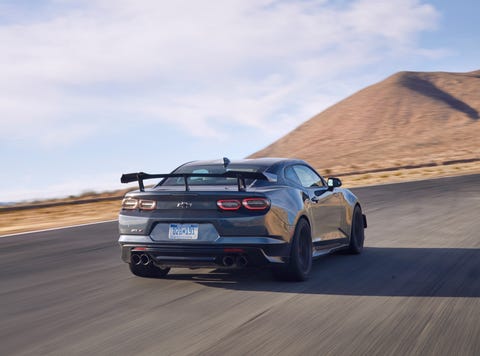 Greg Pajo - Car and Driver
The GT500's as-tested price of $94,665 is nearly $19,000 more than the Camaro. The base price is $73,995, but our Velocity Blue test car was equipped with the $18,500 Carbon Fiber Track Package, which includes 20-inch carbon-fiber wheels, Michelin Sport Cup 2 tires, adjustable carbon-fiber wing, leather-trimmed Recaro seats, and adjustable front strut top mounts for aggressive camber settings. Don't bring the kids; the package also deletes the Mustang's rear seat.
Chevy's supercharged 6.2-liter V-8 is down 110 horsepower from the Ford, but its price is also considerably lower. The small-block has half as many valves activated by pushrods a single camshaft tucked into the block. The 6500-rpm redline and 650 horsepower don't quite light up the spec box like the GT500, but its 650 lb-ft of torque is superior, and it hits at a more accessible 3600 rpm.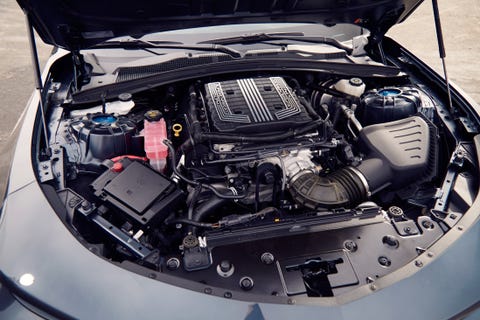 Greg Pajo - Car and Driver
Manual-transmission fans have an easy choice as the Chevy offers a standard six-speed manual, but in the interest of an even matchup we opted for the $1595 automatic. The Camaro's 10-speed automatic not only has a torque converter, it was developed in partnership with Ford, and it's a version of the unit used in the Ford F-150, Chevy Silverado, and the Mustang GT. With the $7,500 ZL1 1LE Extreme Track Performance Package, which includes 19-inch forged wheels, Goodyear Eagle F1 SuperCar 3R tires, Multimatic spool valve dampers (to replace the magnetorheological units), and that big carbon-fiber rear spoiler, the Camaro's base price is $72,195.
The Shelby's engine is significantly louder than the Camaro's, and the Mustang is also heavier. At 4,059 pounds, the Mustang weighs nearly 200 pounds more than its rival.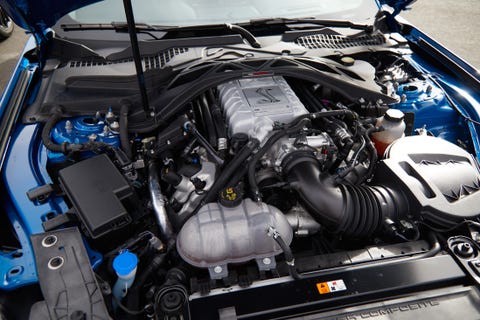 Greg Pajo - Car and Driver
On the Road
With nearly 200 pounds less mass and with a weight distribution closer to 50/50, the 2019 Chevrolet Camaro ZL1 1LE is just as quick as the Mustang despite making less horsepower. At the test track, it beats the GT500 to 60 mph by .2 second, 3.4 seconds versus 3.6. However, the Ford's rear tires eventually hook up, and its horsepower takes charge. It then outruns the Camaro to 100 mph by .3 second, and by 150 mph the gap is stretched to more than 4.0 seconds.
But these are muscle cars, and it's the quarter-mile that really matters. In that race, it's essentially a dead heat. A tire-smoking, fighting-for-traction dead heat, with the Mustang's 11.4-second run at 132 mph just besting the Camaro's time of 11.5 seconds at 124 mph.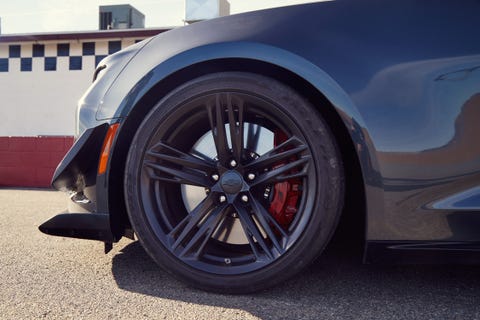 Greg Pajo - Car and Driver
Even with its 2.85:1 final drive ratio, the Camaro averaged a fuel economy of just 14 mpg, a single mile per gallon ahead of the Mustang, which has 3.73 gears. Its range, however, is far superior to the Shelby's. The Mustang's fuel tank is only 16 gallons, so it's sucked dry after only 200 miles of highway driving.
At the test track, the Camaro also outgripped and outstopped the Mustang, with a 1.17-g skidpad performance and stops from 70 mph in 137 feet and from 100 mph in 268 feet. The Mustang trailed but not by much. Its 1.13-g skidpad performance is impressive considering it carries 56.6 percent of its 4059 pounds over the front wheels. It stops from 70 mph in 142 feet and from 100 mph in 279 feet.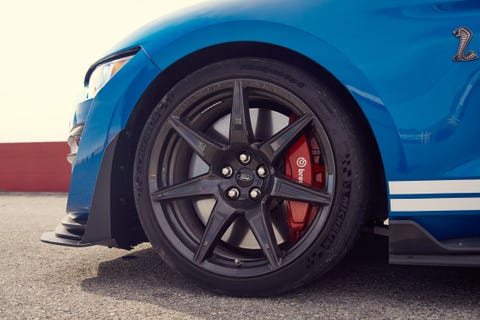 Greg Pajo - Car and Driver
On the street, we prefer the Shelby's brake feel and firm pedal action, and the response and precision of its dual-clutch transmission nearly rivals Porsche's PDK. "This dual-clutch has to be the best Ford transmission ever," said one editor. "Shifts are crisp, and Track mode makes them instant."
Unfortunately, the Mustang's steering is numb compared to the Camaro's, and its chassis isn't as sorted. The ZL1 is more stable, and it puts its power down better with its wider rubber, a more sophisticated traction-control system, and an excellent electronic limited-slip differential. Toss it around, and the Shelby feels smaller and lighter than it is, but it's also a bit skittish and less forgiving. It always feels like one false move, one mistake, one miscalculation, and you could easily end up in a ditch.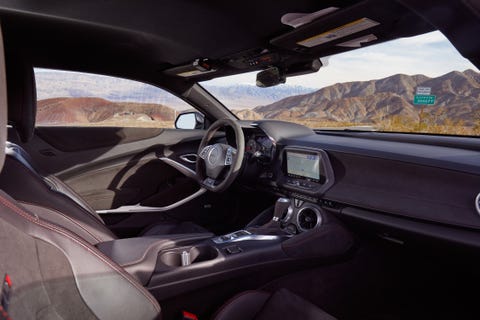 Greg Pajo - Car and Driver
Although both cars offer the kind of speed better suited for the track, the Camaro is easier to drive quickly. The fun is more accessible and therefore more easily enjoyed. But the sacrifice for all that stability is ride comfort. The Mustang's suspension is al dente, while the Camaro's is uncooked. It's like hitting your head on the headliner again stiff. By comparison, a standard Camaro ZL1 with the magnetorheological dampers, which are also used in the GT500, rides with the pillowy, cloudlike float of a 1976 Eldorado convertible.
The Inside View
We keep waiting for a Camaro to come along with a great interior. The ZL1's cabin is visually prosaic, functionally challenged, and cheap to the touch. There's too much ugly plastic, including paddle shifters that feel flimsy, and mundane gauges with a pitifully small gear readout. That's a major oversight in a muscle car with 10 ratios to keep track of. Your view of the outside world rivals a solitary cell at Sing Sing, and the Camaro's two large center-mounted air-conditioning vents are located perfectly to cool the muscle car's shifter and perhaps, if you're lucky, your abdomen.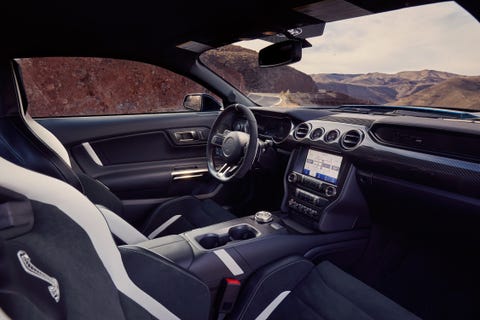 Greg Pajo - Car and Driver
But Chevy didn't get it all wrong. The Camaro's Recaro seats are even more comfortable than the Mustang's—and the Mustang has outstanding seats—and the driving position is spot on. Despite its significant discount, the ZL1 was also packed with features not found on our Mustang, including navigation, heated and cooled seats, a heated steering wheel, a back seat, power seats, and wireless phone charging. We also have to give Chevy kudos for including a tire temperature readout on the digital display.
The Mustang's interior looks, feels, and functions better than the Camaro's, although some editors question the decision to give the GT500 a rotary shifter. Yes, it worked visually in the futuristic cabin of the GT supercar, or a Ford Fusion, but some feel it doesn't have the right vibe in the Shelby, which reeks of retro both inside and out. Its paddle shifters are magnesium.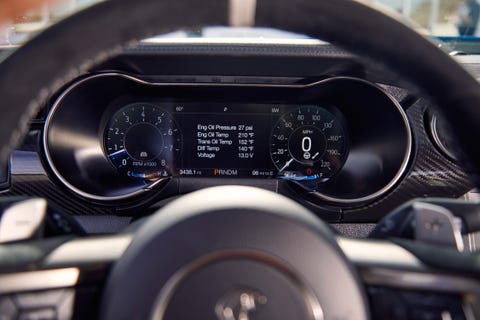 Greg Pajo - Car and Driver
Although the Shelby's digital gauge cluster also clashes with the cars born-from-the-1960s sensibility, the graphics are appealing and informative. In Track mode, the layout reconfigures itself, prioritizing engine speed and gear ratios. Ford also kept a couple of old-school analog gauges for oil pressure and oil temperature high on the center stack where they can't be missed.
That kind of attention to detail and thoughtful design are also found under the Shelby's hood. With a magnesium strut tower brace, carbon-fiber composite panels, and a menacing cobra emblem atop its supercharger, its engine compartment is far more finished and attractive than the Camaro's, which is unromantically utilitarian. Chevy clearly saved some time and money by not dressing the ZL1's engine room.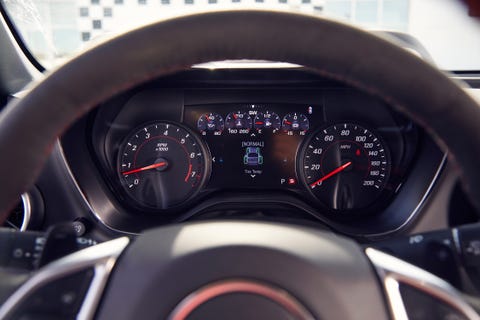 Greg Pajo - Car and Driver
The Bottom Line
With the Corvette going mid-engine, these two machines, along with Dodge's Hellcats, are keeping the traditional American fire-breathing, rear-drive, front-engine muscle car alive. It's a commendable feat considering our society continues to accelerate toward autonomy and electrification like a drunken hipster on a rented moped. But after two days of track testing and several days of driving around the barren desert landscape of Southern California, a winner, a clear winner, of this comparison test, failed to materialize. Whatever you're driving at any given moment feels like the best one.
Both the Ford Mustang Shelby GT500 and the Chevrolet Camaro ZL1 1LE live up to the hype. Either will put a big dumb smile on your face while shredding an expensive set of summer tires in the process. But these are sophisticated cars. Their ability to turn and stop are only surpassed by their unbridled power and tire-destroying skills. But we pick winners here, and the winner is the Camaro. Its biggest advantage is that it's simply a better value. There's a lot we love about the GT500—the ride quality, interior design, and its more sophisticated powertrain—but the more affordable ZL1 1LE manages to match or surpass the Shelby's performance while offering a much longer list of features. Spend the stack of money saved on gas and Goodyears. You're going to need them.
SOURCE: CAR AND DRIVER